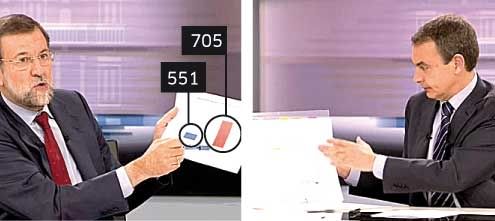 On teh last and boring TV political debate in Spain, graphics was the latest toy contendants liked to use.
Rajoy
, the conservative candidate, used false scales, ina way that he could have used bars of the size he liked. If
Zapatero
, the socialist leader, lied or not with his graphics is harder to know. His 'White Book' (as he called it) was so white that you'd need more than a good TV to know what he was showing.
If you want to know more... Juantxo Cruz advices to use graphics on tv debates, on
VisualMente
(spanish)