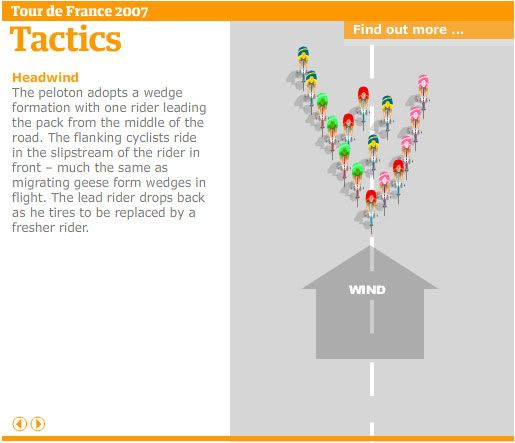 Preparing this year Tour graphic, one of these not very original graphics of every year (we can and we must be original, but I must confess I wasn't either this time...) I had a look on The Guardian
to this very simple but great graphic.
There should be thousand like this one, but, as I haven't seen them, I comment this one. The main part of the graphic is
the tactics
. I must say I am not used to watch to cycling, but I put the blame on that I don't understand the sport. I don't know why the riders do the movements they do, or how the colleagues of one rider allow him to escape easily. But this graphic explains all that in a very easy way. Very simple. Very effective. You could have this graphic done in the firsts days of Flash. Other example on how abilities for drawing are not a very important thing. Is the way you explain information.
A journalist (writer) must
tell stories
, and how he writes is not the important thing (although is a good plus, of course)!. A infographics artists must
explain
, drawing better or worse is not the main thing.
These are obvious things, but we forget them many times.
Congratulion to the graphics team of
Guardian Unlimited.