It took me a while to find how to use
Twitter
beyond self promotion, but once I did I'm really a fan of it. As web media and wit a very simple structure, their contents are easy to classify and find ways to 'play' with them, on visualizations over any other way. I could find at the spaninsh blog
Microsiervos
one of these tools, called
Twitter Venn
, that allow you to create
Venn diagrams
with what is happening on this microblogging service.
Flowing Data also shows
another 17 ways to visualize Twitter data
: relationships, messages, geolocalization, schedules...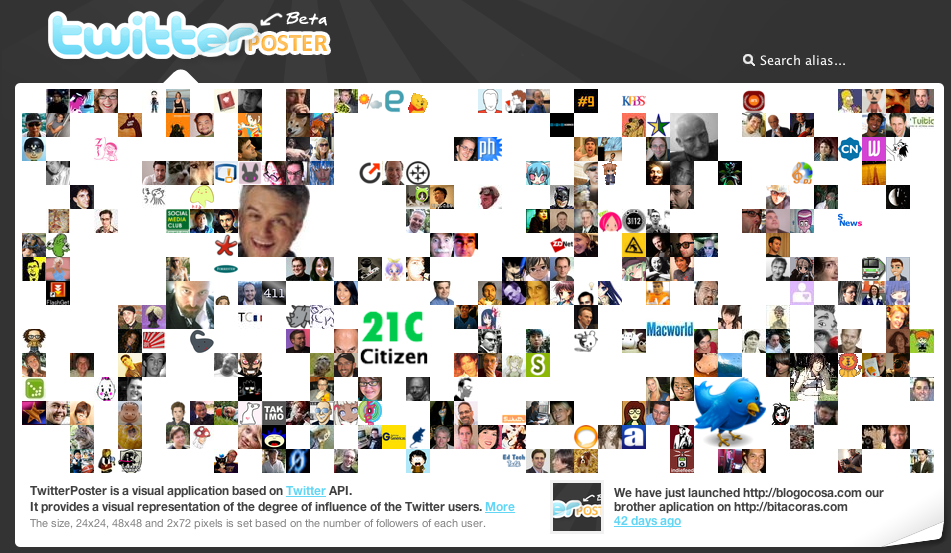 And not just Twitter can offer this kind of information.
Digg
has it own
visualization labs (Digg Labs)
, which show the content generated by its users live. My favourite is
'Stack'
and its diggs rain.
Microsoft has also its own
lab
, but rather directed to tools than vsualizations. Anyway, some of them as
Photosynth
, which allows you to create 360º enviroments just with some photos, is very useful for infographic journalists. On the visualization section we have
Social Streams
, that shows you what's on the social media. They opeend to public a tool based on it, called
Political Streams
, but I must confess that I have not find how to access it yet.
More easy to find and use are some
Facebook
tools. For example, the
Nexus
wheel of relationships. As any graphic, that way of showing things make you notice things you won't discover other ways.
For example, on my own graphic the upper part of the wheel are my personal realtionships. The opposite are the professional (although both worlds use to be the same many times), The people in the middle are mostly colleagues of the University, which are links between both worlds. You can discover how some peple is connected in so many ways you couldn't even imagine.
As these are hundreds of examples. The information, each time more accessible and stored is easier to understand if we manage to visualize it.
If you like this kind of data, don't forget to visit
infosthetics
.