Soraya Sáenz de Santamaría, spanish politician of the Popular Party (opposition), showed this graphic to the press talking about the evolution of the unemployment in Spain.
If you know the data, it's easy to see that the scales don't fit. It looks like there are three times more unemployeds than one year ago. (which is not true).
It's just another visual lie, used so many times by politicians or businees men. If we take a look to the real scale between both bars, the actual difference would be this:
A great difference anyway, with no need of lies. But this is not
the first time we see something like this
.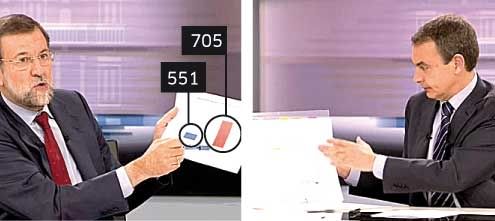 And another detail: on both cases (both of the Popular party), they use the blue for the good data (blue is the colorr associated with theire party), and red for the bad ones (used by the socialist party).
But media is not innocent here...We have our own history of lies. On example: for the same data, El Periódico de Catalunya, a newspaper which is against the popular party, published this graphic on the frontpage.
A trick much bigger than the first one. But we (or better said, our editors) use to like the dramatic changes, even when they don't exist.