The infographics department of this newspaper was born on 1999, with three artists, but it was this year when the style rules and the infographics genres were finally established.
At the moment, the infographics editor Óscar Corvera, who
has has been a great ally for this blog before
, assists daily to the editorial meetings every morning to settle the agenda of the graphics for the day or for some graphic projects, as told us Enrique Contreras, Visual Concepts chief at Grupo Dutriz (which is the owner of La Prensa Gráfica). Adding to this, the department make its proposals, research, and execute its own topics. Many of them takes the editorial wing interest grow and build a feature to go along with the story.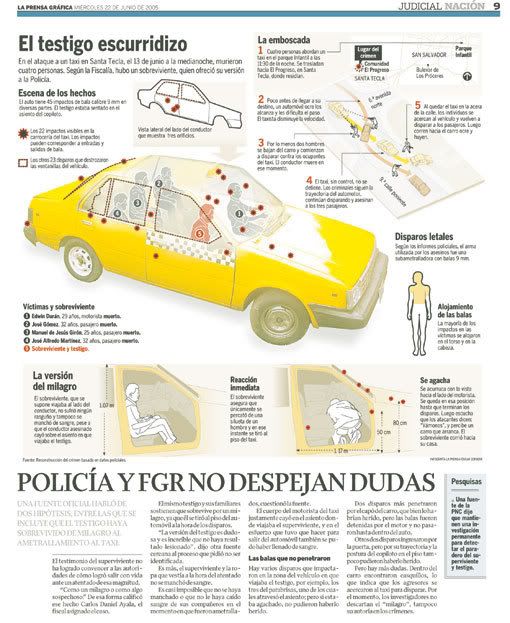 The main graphic genres, as they told us, are the judicial infographics (crimes, crashes, assaults), sports, ecologic topics, technology, economics, politics, archeology, history health and reseach (which means, almost all).
The area has now five people working on infographics, two of them with journalism degree and with the close target of merging the online graphics department (and God bless this kind or merges!).
They are also with the firsts steps on the commercial infographics, with the Bussiness Head of the group.
If we talk about awards, two SIP awards and four SND decorate their walls. Well deserved.